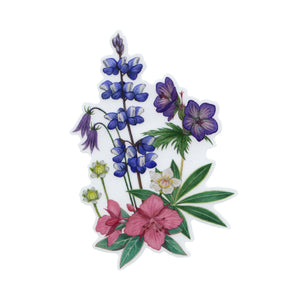 Wholesale Vinyl Sticker: Alaska Native Wildflower Bouquet (Valdez Edition)
Sale price
$2.00
Regular price
$5.00
Wholesale minimum: 6*
This sticker featuring my watercolor painting of a variety of wildflowers found in Alaska is made of a durable vinyl, laminated to protect against scratches, rain, and sun. It measures approximately 4.65" inches tall and has a matte finish. It can be used on water bottles, laptops, cars, planners, mail boxes, etc. 
This stickers features the following flowers:
Kotzebue's Grass-of-Parnassus (Parnassia kotzebuei)
Common Harebell (Campanula rotundifolia)
Nootka Lupine (Lupinus nootkatensis)
Woolly Cranesbill (Geranium erianthum)
Marsh Grass-of-Parnassus (Parnassia palustris)
Dwarf Fireweed (Chamaenerion latifolium)
 I call this one the Valdez edition because that's where I saw them while visiting Alaska, however, these flowers can be found in various spots throughout Alaska.
This item is loose with no packaging.

 *Due to inventory being spread across a few platforms, on occasion we may be out of stock. If so, the out of stock portion of your order will be refunded or put on backorder. Thanks!
Wholesale pricing is only available to approved retailers, if you order without being approved by us your order may be subject to cancellation and refunded. For personal purchases please go through the main shop.
---
More from this collection