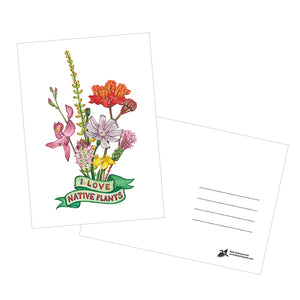 I Love Native Plants 5x7 Postcard
Sale price
$2.00
Regular price
$4.00
These postcards features a bouquet of Florida native plants and the words "I Love Native Plants" with Grass Pink, Colicroot, Drumheads, Fewflower Milkweed, Rose Rush, Yellow-eyed Grass, Pink Milkwort.
The postcards are 5x7 inches and printed on a thick 16-17pt coated matte card stock. The side with the art is coated to offer some protection, and the other side is uncoated with space for an address and a note. 
*Please inquire if you would like to order 50+, further discounts are available.
---
More from this collection